Home Page

F A Q's






Scenic Wind Balloon Tours
Contact us: (call or text) 402-981-2048
E-mail: Steve@scenicwindballoons.com




Q: How much does a flight cost?
A: Flights are $315 for AM, $375 for PM flights per person. Cash or check at time of flight. Sorry, we do not currently take any credit/debit cards.

Q: Do I need to put down a deposit when I book a ride?
A: No, you can pay for your ride at the time of the flight by cash or personal check.

Q: When is the best time of year to call and schedule a ride?
A: January to June is the best time to call.

Q: Can I call July to October and schedule a ride?
A: Probably not as we are trying to reschedule as many passengers who have had their ride canceled or postponed due to weather.

Q: How often do rides get cancelled/postponed?
A: Fairly often, We like to be safe and try to fly on only the best weather days.

Q: Can I schedule a ride and schedule a backup date?
A: Yes, Many people will schedule 2 or 3 backup dates.

Q: How early should I schedule my ride?
A: As soon as you have a date(s) in mind! Our calendar fills fast, (usually by end of June we are full for the year) so the more notice you can give us, the better. We start taking reservations for current year on Jan.1st. Please also note: If YOUR date plans change please call ASAP.

Q: If I book a flight what should I expect?
A: Our pilot takes scheduling according to dates you'd like, a day or so before the flight he will contact you with whether the weather looks good or not and an expected meet time. Prior to the flight the launch site will be set and confirmed with the passengers. Passengers will need to meet at the balloon vehicle and sign the waivers. (If you would like a copy sent to you in advance, please let us know when you schedule your flight). At the launch site the crew will unpack the balloon from the trailer, using 1 or 2 fans pack the horizontal envelope with ambient air, then the pilot will turn on the burners and begin heating the air, as the envelope rises the basket becomes vertical. The passengers get in and with the pilot begin their ascent to an awesome experience.

Q: What time do we meet for the morning flight?
A: Usually 15 minutes before sunrise

Q: What time do we meet for the evening flight?
A: Usually 2 hours before sunset

Q: Where will we launch from?
A: The launch site is determined by the forecast wind directions and where that will take us to. We would like to make your trip scenic yet not take us in a direction that would limit landing spots. We have several spots around town that we like to use. It does not need to be at an airport, a large open area free of obstruction will work.

Q: Where will we land?
A: Mother Nature plays a big role in this, at take off the pilot only knows the direction that will being going he will be looking for landing spots from the air as the flight progresses. Although mowed grass is preferred sometimes it's the middle of a field or near the side of the road, etc. The "chase crew" has radio contact with the balloon and will try to be in the vicinity when the pilot finds the spot he wants to land at. They will then help with the pack up.

Q: What time of day can we fly?
A: In the Omaha/Council Bluffs metro area the air is most stable at sunrise or an hour or so before sunset. Meet times are generally 15 minutes before sunrise and about 2 hours before sunset so we can enjoy the calmer winds for launch and landings.

Q: What should I wear?
A: The temperature does not change much from the ground to the height of flight so we recommend that you wear comfortable clothes or layers of clothes suitable for the current weather. We do suggest that you wear sturdy closed toe shoes and longer pants for your safety upon the landing. Bringing a camera or video camera is also suggested. For those taller folks, with some sensitivity to heat near your head, we suggest that you wear a fitted cap of some sort as there is some radiant heat downward from the onboard propane powered burners.

Q: How long does the whole "tour" take?
A: We like to figure that from unpacking the balloon, inflation, flight, pack up & return to launch site can take usually 2-21/2 hours but maybe up to 3 hours, a lot depends on how far the wind takes the balloon. Ground transportation back sometimes is quite longer than the "how the crow flies" path the balloon took.


Springfield sunrise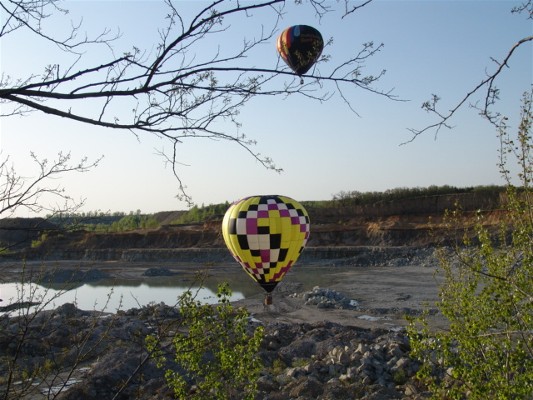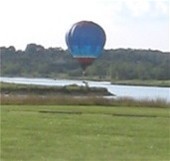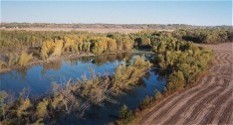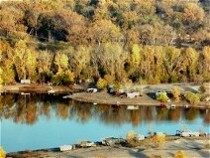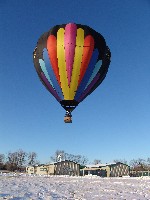 | | | | | |
| --- | --- | --- | --- | --- |
| Spring sandbar playing by Jester UnWindz & Propane Addiction | Summer along the Elkhorn R. | Summer in Nebraska | Fall colors near Linder Lakes | Winter near Elkhorn River |
Q: Can I go for a flight in any season? A: We generally late March through late October. Each season having its unique qualities and can all be quite scenic. Please call for off season flight availability.
Q: It's a beautiful day...why did the pilot call and say it's not flyable? A: Hot Air balloons are dependent on the wind speed for flight. Generally pilots do not like to launch in ground winds or gusts greater than 7 MPH some pilots even have a lower speed they feel comfortable with. Forecasted ground speeds at expected time of landing also play in a pilots decision to fly or not on a particular day. Upper winds speeds also have to be considered and at what level the higher wind speeds begin. For example: if the 100 ft winds are greater than 12 mph and the balloon stands at 70 ft high, that doesn't leave much room to before more dangerous winds could occur.

Q: Can if be too hot to fly?
A: Yes, definitely as the air inside the envelope has to be warmer than the outside air for flight. Trying to fly in too high of temps or humidity causes risk to, people and equipment.
Q: Is it safe? A: Hot air ballooning is the safest form of aviation. The pilot is an FAA licensed Commercial pilot and well as the aircraft being, FAA registered and annually inspected by a certified inspection station. The inspector does a series of test to make sure that it is kept to strict standards of airworthiness.
Q: How many people can go for a ride? A: Our largest system is rated for 7 passengers plus pilot but a lot depends on the outside air temperature. The air in the top of the balloon has to heated to a temperature hot enough to make the balloon rise, so in warmer we may only carry 4 passengers, as less weight can be carried in the basket.
Q: Why can the pilot not tell me where we are launching from when I call for a reservation? A: Different layers of air have different speeds and directions. The pilot will determine the expected launch site based on the forecasted direction of the wind within a few hours of the flight time. It is generally not a good idea to float over the main areas of Omaha or Council Bluffs as landing spots are limited and being in the flight path of the Eppley or Offutt's air traffic is not something that we would like to do on a regular basis. If you would like to fly over a certain area please discuss this when you make your reservation. We use several spots around the area to launch, all make for nice scenic flights.
Q: What is the balloon made of ? A: The envelope itself is made of rip-stop nylon or a coated polyester similar to parachute material. The basket is made of wicker, with wood flooring, metal tubing underneath to which the "uprights" connect to the burner and a number of cables running the height of the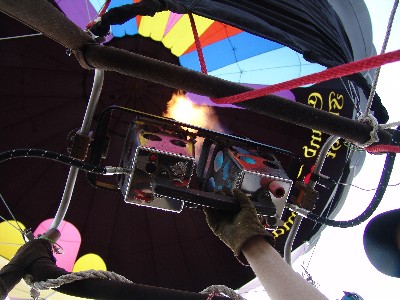 envelope. The envelope has a parachute top which is used for altitude control, inflation and deflation. The double burners onboard are fueled by propane and are capable of putting out 25 million BTU's of heat an hour, each.. The pilot also has onboard an altimeter, variometer, pyrometer as well as a GPS and 2 way radio.
Q: What happens if a bird flies into the balloon? A: Balloons are large enough that most birds avoid them. The envelope fabric is tight and tough enough that a bird would most likely just bounce right off. The balloon manufacturer has performed many tests for its durability. It is possible to fly a balloon with a medium hole in the fabric as long as it's below the center point or equator of the balloon.
Q: "I don't like heights" so how could I experience flight? A: Most people's dislike for heights is more of a fear of falling or "the sudden stop at bottom", in a balloon the feeling is very different from climbing a ladder as you are standing on a solid surface of the gondola floor with it's sides waist high. So while you drift with the wind you can look around you and don't really have the shaking or rocking feeling of a ladder or a Ferris-wheel.
Q: Do passengers ever get motion sickness? A: As the balloon is moving with the speed of the wind there is very little feeling of motion in the balloon. There is no sensation of movement or speed like a roller coaster as the only "motor" is the onboard heater controlled by the pilot to change in altitude. So motion sickness has not been an issue.
Q: My Children just love balloons, can they go?
A: Yes, if they are at least 7 years of age and are more than 48" tall. We also asked that they be of a social age that they realize they will be standing in the basket for 45 minutes or longer and the pilot cannot just land when they are bored. Please note that aviation industry and insurance company considers them the same as any other person, so we do not offer discounts for children.

Q: May I bring my camera or a water bottle on board with me?
A: Yes, please do bring your camera. Please have all beverages in spill resistant containers.

Q: What happens after we land?
A: Pilot will make sure fuel is turned off and advise as to how you should exit the basket. The crew will deflate the envelope, pack it away. Then we will have a short ceremony for our passengers and then get everyone transported back to the launch area.

Contact us: phone or text: 402-981-2048
E-mail: Steve@scenicwindballoons.com